Wednesday 30th November marked the awards ceremony of The Thames Valley Business & Community Awards recognising and celebrating the outstanding achievements of businesses, charities and inspirational individuals throughout the region.
Among the 15 winners were entrepreneurs who had created unique solutions to the problems they faced, sunk their heart and soul into improving their industry and overcome personal and professional hardship to triumph in business.
The Thames Valley Business and Community Awards winners are:
| | |
| --- | --- |
| Business of the Year | SEGRO |
| The SME of The Year | Earth 51 |
| New Start-Up of The Year | Holistic Hounds |
| The Employer of The Year | CV Library |
| Male Entrepreneur of The Year | Karsten Smet |
| Female Entrepreneur of The Year | Elisabeth Brown |
| Young Entrepreneur of The Year | Jack Boitier & Tom Daniels |
| Networker of The Year | Saira Majid |
| The Apprentice of The Year | Adam Leadbetter |
| Business Leader of The Year | Pete Tomlinson |
| Innovator of The Year Award | CV Library |
| The Charity of The Year | Alexander Devine |
| Outstanding Community Contribution | Sarah Gardner |
| Lifetime of Achievement | Gerry Lejeune OBE |
| The Leisure & Tourism Award | Wake up to Woodstock |
The Awards judging process saw a range of esteemed entrepreneurs come together to scrutinise the finalists and select the short-listed nominees and then decide on the winners.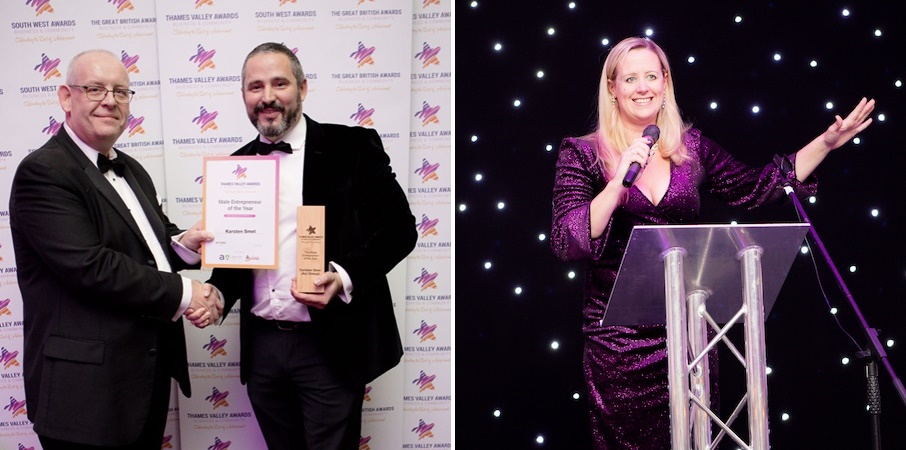 The awards evening, held at the Hilton Reading, was a huge success and raised over £1000 (and still counting) for the Cherishers Charity.
After a welcome from Alec Jones Hall, Director of the Awards, Great British Expos & SME Today, a wonderful dinner was enjoyed by all accompanied by the sounds of Sparky & Sprite Entertainment, the band for the evening.
Towards the end of dinner keynote speaker Naomi Riches took to the stage to deliver an inspiring story of motivation and dedication. Naomi was just 8 weeks old when she was diagnosed with a visual impairment. Although as a child this threw up many challenges and difficulties, Naomi did not let her disability stand in her way. In 2004 Naomi seized the chance to join Great Britain's Adaptive Rowing Team. She went on to compete in the Mixed Coxed Four winning six World Championship Gold Medals, a Paralympic Bronze Medal in Beijing and at the London 2012 Games she became Paralympic Champion. As a result of the success in London, Naomi and her crew were awarded MBE's in February 2013.
As well as dinner, dancing and speeches, the awards guests also enjoyed a raffle and games which were held throughout the evening to help raise further funds for charity. All were presided over by Mary Flavelle, well know in the region as a Networker, Radio Presenter and Co-ordinator of the Good Morning Marlow programmes.
Alec Jones-hall, Director of Great British Expos and the Award's, summed up the evening event "We are proud and excited to have celebrated the most outstanding achievements across the region and rewarded those who are making a huge impact throughout the Thames Valley. We are delighted that these awards have raised money for charity and everyone has a had a great time in the process. We have seen the business community come together to celebrate the accomplishments of those shortlisted and the deserving winners of each category. Tonight, we have all played a vital role in the success of our region."
Contact: 0843 289 4634 Email: alec@thamesvalleyawards.co.uk
All photos courtesy of Debbie Hare Photography – 07976 397638 info@dhwp.co.uk
Debbie Hare Photography